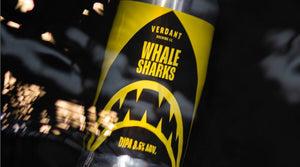 Whale Sharks! - Stock Drop 22/11/22
So, the World Cup has started, we'll have most of the games on in the back room if you want to watch them with some decent beer. We've made the England games ticket only so we can manage numbers and the first two group games are now sold out. There are still a few tickets left for the game against Wales you can grab them here. The main room will be football free so if you don't want to watch the football don't worry, you can escape.

First up, Whale Sharks! Verdant's second most desirable DIPA. These will be going out to email subscribers at 6pm before general sale at 7pm, don't miss out. 

Again we're faced with so many BIG releases that we don't know where to start. Let's just bang through a few: Two new Brew York State Of Mind Barrel Aged stout releases, Neon Raptor's Centaur Army, a Sureshot x Track Impy, new Three Hills beers and the second in New Bristol's 7 stouts of Christmas series. 

This is also your last chance to grab an Advent calendar...
Plenty more on the full list below.

The Hop Vault.

P.S. It's the Stourbridge Christmas Light switch-on this Friday so pop into town, have a beer and get into the festive spirit.



Arbor - All The Simcoe Ladies - IPA - 7.2%
Attic - Conundrum - NEIPA - 6.8%
Bosteels Brewery - Kwak Gift Pack - Gift - 8.4%
Brasserie d'Achouffe - La Chouffe Gift Pack - Gift - various%
Brew York - Alpine Eagle - Lager - 4.1%
Brew York - Barrel Aged Flatpack Fika Fuel: Highland Whisky - Imperial Stout - 9.5%
Brew York - Barrel Aged Flatpack Fika Fuel: Plantation Rum - Imperial Stout - 9.5%
Brew York - Captain Strata & The Nectarons - Pale Ale - 4.5%
Brew York - Thoily Cyrus - Pale Ale - 5%
Burning Soul - Heaven Helles - Lager - 4.7%
Cloudwater - Altica - IPA - 6%
Cloudwater - West Coast IPA Is Dead - IPA - 7.2%
Dig Brew - 23-19 - Sour - 5.2%
Dig Brew x Play Brew - Rancho - DIPA - 7.5%
Duration - Fruits Of Optimism - Pale Ale - 5.2%
Duration x Verdant - Pression - Pale Ale - 6.2%
Glasshouse - Haust - IPA - 6%
Glasshouse - Nox - Pale Ale - 5.4%
Green Duck - Diamonds To Coal - Stout - 8%
Green Duck - Ricochet - NEIPA - 7.2%
Left Handed Giant - Cheeseburger Cavalry - Porter - 6.9%
Left Handed Giant - Mind Of Winter - Porter - 6.8%
Neon Raptor - Centaur Army - Imperial Stout - 14.5%
New Bristol x Attic - Ferrero Rocher Stout - Stout - 7%
Polly's Brew Co - Ginger Nut - Stout - 6.2%
Pomona Island - Aloysius Devadander Abercrombie - IPA - 6.5%
Pomona Island - Fandango Fresh - Sour - 6.5%
Samuel Smiths - Oatmeal Stout - Stout - 5%
Sureshot - Everything Is Legal In New Jersey - IPA - 6.5%
Sureshot x Track - We All Can't Speak - Imperial Stout - 10%
Three Hills - BPAVK: Vanilla Custard - Imperial Stout - 11%
Three Hills - Forbidden Pastry: Arctic Fruit Rice Pudding - Sour - 7%
Unity - Juxt - Stout - 5%
Unity - Many Hands - IPA - 6%
Verdant - Even Sharks Need Water - IPA - 6.5%
Verdant - It's Pronounced Verdant - IPA - 6.5%
Verdant - Whale Sharks - DIPA - 8.5%
---