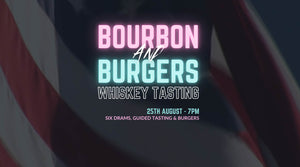 Verdant's First Ever TIPA... and Wine?!...
First up... Whisky tasting is back on Thursday - This time we have bourbon & burgers! Tickets are £25, they include six drams, guided tasting and a burger. It's going to be a lot of fun so come and join in. Tickets are available here.

Right...

Verdant have done three collaborations with some big names: An IPA with Finback, a DIPA with Other Half and their FIRST EVER TIPA with Berlin based Fuerst Wiacek.

In other news we've decided to expand our offering and we've added a few low intervention wines from South African based Nouveau Wine. If you like the occasional glass of wine between beers we strongly recommend you give one of these a try.

Yonder are celebrating their fourth birthday and have released a couple of collaborations. They're known for some of the best sour beers in the UK so we're looking forward to their Yuzu Berry Double Cheesecake Sour brewed with Vault City (10%) and their Paloma Gose brewed with Neon Raptor (4.5%).

Also landing this week there's a couple from of fresh tins from sunny Barcelona. Garage - arguably Spain's best brewery - have sent us their Soup IPA (6%) and Midnight Blaze DIPA (8.5%) a collaboration with Amundsen.
Amongst the rest you'll find fresh Glasshouse, Left Handed Giant, Unbarred and a big German Restock.

All this and more live at 7PM.

The Hop Vault.
---