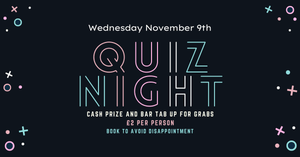 Stock Drop - 8/11/22
It's quiz night this week, as usual there's a cash prize and bar tab up for grabs. You can book your spot here.
Right let's get this out of the way: The first Christmas beers are here (they actually arrived a couple of weeks ago but we couldn't bear to release them in October, it just felt wrong) Brew York's annual Christmas beers! Three of 'em. Two stouts and a sour all with a festive twist.

A couple of breweries celbrating birthdays this week; Spanish brewery Basqueland are celebrating their 7th birthday by collaborating with some of Europe's best breweries. There's a DIPA with Verdant (who else?!) an IPA with Cloudwater and a Salted Caramel Imperial Pastry Stout with Põhjala. Track are also celebrating their birthday with a couple of fresh Gold Tops, a DIPA and a TIPA. We tried the TIPA at our recent Track event (which was great by the way!) and it was delicious. We also have three other cans from Track including their colaboration with Glasshouse.

Other bits to get excited about: fresh Beak, a couple of rare Imperial Stouts from Arbor, three new Glasshouse cans and two new Verdant IPAs.

Plenty more on the full list below.

The Hop Vault.

P.S. We're going to be showing the World Cup in The Counting Room, strictly ticket only. Tickets are available here.
Arbor - Diary of an Impy Kid - Imperial Stout - 11.5%
Arbor - Elliot Has Left the Building - Imperial Stout - 12.5%
Basqueland x Põhjala- Chocomel Caralate - Imperial Stout - 11.5%
Basqueland x Verdant - Double Down - DIPA - 8%
Basqueland x Cloudwater - Our Finest Hour - IPA - 6.5%
Basqueland - Waffle Supreme - Imperial Stout - 11%
Beak - BLVD - Pale Ale - 5.2%
Beak - Shape - IPA - 6.5%
Bewdley Brewery - Bah Humbug - Winter Ale - 4.6%
Brew York - Dreams Of Brew York 2022 - Sour - 6.5%
Brew York - Fairytale Of Brew York 2022 - Stout - 4.9%
Brew York - Nightmare Of Brew York 2022 - Stout - 9.8%
Fixed Wheel - Blackheath Stout - Stout - 5%
Gaffel - Lemon Radler - Radler - 2%
Glasshouse - Acres - IPA - 6%
Glasshouse - In The Balance - Lager - 4.7%
Glasshouse - Noli - Pale Ale - 4.6%
Hacker Pschorr - Munchner Gold - Lager - 5.5%
Hofbrau - Hofbrau Original - Lager - 5.1%
Huyghe Brewery - Delirium Argentum - Belgian IPA - 7%
Samuel Smiths - Winter Welcome - Winter Ale - 6%
Track - If You Lose Me - DIPA - 8.5%
Track - Lipari - Sour - 5%
Track - Reality Checks - Pale Ale - 5%
Track - Take My Place - TIPA - 10.5%
Track x Glasshouse - This Is The Edge - Pale Ale - 5.6%
Vacay - Mojito - Cocktail - 6.2%
Verdant - Lucky Slurps - IPA - 6.5%
Verdant - Solid State - IPA - 6.5%
---