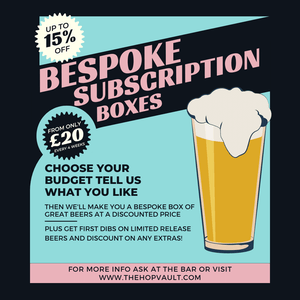 Stock Drop - 6/12/22
It's another big one...
Let's start with Tiny Rebel. We haven't had any new Tiny Rebel for a while but they've dropped this year's Christmas versions of Stay Puft (Sleigh Puft...) and they're based on Christmas chocolates. We have all four available individually and a limited number of presentation packs.

Brew York have released four beers inspired by The Great British Bake Off.
There's a new Emperor's collaboration an Export Porter brewed with Staggeringly Good; it's quite delicious.

Neon Raptor have re released their super popular peanut butter & chocolate stout Clusters.

Polly's are celebrating their fifth birthday by releasing the first beer from their barrel ageing project a 13.2% Imperial Stout aged in an ex sherry/whisky cask. We're very excited to try this one.

There's a bunch of new Glasshouse including the umpteenth restock of their Nothing Bound Collaboration.

Talking of Nothing Bound we have two fresh cans from them...

Due to unprecedented popularity we've restocked Unbarred Stoutzilla both the regular cans and the barrel aged bottles so if you missed out last week you have a second chance!

Oh, and we have a new Pohjala Imperial Stout.
Plenty more on the full list below, live at 7PM.

The Hop Vault.


Anspach & Hobday - The Pfeffernuse Stout - Stout - 6%
Brass Castle - Christmas Kitty - Porter - 5.5%
Brass Castle - Trinitario - Stout - 5%
Brew York - Coffee Bake - Imperial Stout - 10%
Brew York - Fruit Pie - Sour - 8%
Brew York - Juice Forsyth - IPA - 5%
Brew York - Plum Cake - Stout - 8%
Brew York - Rhubarbra Streisand - Pale Ale - 5.5%
Brew York - Rum Sundae - Imperial Stout - 12%
Church End - Church End Gift Pack - Gift - various%
Cloudwater - Mango & Citra Soda - Soda - 0%
Cloudwater - Super Happy! - Pale Ale - 5.3%
Copper Beech - Birdie - Pale Ale - 4.6%
Copper Beech - Dog Days - Wheat Beer - 5.1%
Copper Beech - I Left My Heart In NYC - IPA - 6.4%
Copper Beech - Nineteen Dollar Return - IPA - 6.5%
Deya - My Window Observations - IPA - 6%
Fixed Wheel - No Brakes - IPA - 5.9%
Fixed Wheel - Wheelie Pale - Pale Ale - 4.1%
Glasshouse - Dew Point - Lager - 5.2%
Glasshouse - Floating In The Dark - Pale Ale - 5.5%
Glasshouse - Lateral Motion - Pale Ale - 4.8%
Glasshouse x Nothing Bound - Stacks - Pale Ale - 4.8%
Neon Raptor - Clusters - Stout - 5.2%
Pohjala - Mudcake Banger - Imperial Stout - 12.5%
Polly's Brew Co - Quinquenium - Imperial Stout - 13.2%
Polly's Brew Co - Wither - Porter - 5.8%
Staggeringly Good x Emperor's - Disturbance In The Fence - Porter - 8.8%
The Kernel - Table Beer - Pale Ale - 3%
Three Tuns - Old Scrooge - Winter Ale - 6.5%
Time And Tide - Depth Charge - Stout - 5.9%
Time And Tide - The Kraken - Stout - 8%
Time And Tide - Urban Goose - IPA - 4.6%
Tiny Rebel - Sleigh Puft Mixed Pack - Stout - Mixed%
Tiny Rebel - Sleigh Puft: Matchmakers - Stout - 4.2%
Tiny Rebel - Sleigh Puft: Salted Caramel - Stout - 7.2%
Tiny Rebel - Sleigh Puft: Terry's - Stout - 6.2%
Tiny Rebel - Sleigh Puft: The Purple One - Stout - 5.2%
Tiny Rebel - To, Merry Christmas, From - IPA - 5.3%
Track x North - Many Ways - IPA - 6.5%
Unbarred - Barrel Aged Stoutzilla 22 - Imperial Stout - 11%
Unbarred - Chonka - Stout - 9.2%
Unbarred - Joosy - Pale Ale - 5.1%
Unbarred - Stoutzilla - Imperial Stout - 10%
---