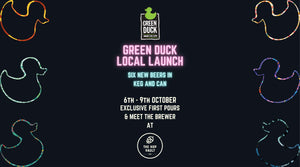 Stock Drop 4/10/22 + Green Duck Local Launch
First up... This week our mates up the road Green Duck are launching their new can & keg range and we have exclusive first pours at The Hop Vault from Thursday. We'll have the entire range of can and keg beer available for you to try until Sunday and on Thursday night the guys from Green Duck will be coming down to hang out, chat and answer your questions. So come down and support your local brewery!
Right, this week's collaboration watch is a big one: If you haven't got on the Northern Monk x Smug Patrons Project hype train yet, now's your chance as they release 13.06: Smug The Reincarnation; this one a DIPA (8%) brewed in collaboration with New Zealanders Garage Project. Low Key have dropped a trio of barrel aged raspberry & chocolate imperial stouts brewed in collaboration with Black Iris, there's Rioja, Rum and Bourbon barrel aged versions. One of the most underrated breweries (in our humble opinion) Arbor have teamed up with Nottingham based Liquid Light to deliver us a DIPA (8.4%) in one of their trademark pint cans! Woop! Neon Raptor have teamed up with pot heads Cannabrew to rustle up a munchie busting CBD infused Chocolate Brownie stout (5.2%). And fiinally, Burning Sky have reached out to another New Zealand based brewery Boneface to give them a hand whipping up a barrel aged mixed fermentation beer hopped with Nelson Sauvin in a sharing bottle... Yes Please!!

We can't let you go without shouting about Dig Brew's latest imperial stout which launched at Beer Central to rave reviews. Judge Doom slays Eddie is a 13% Imperial Desert Stout with Toasted Ancho Chillies, Vanilla, Chocolate Stout Cake and Cacao... We expect it to fly out. It's available in wax topped 330ml bottles and 750ml Sharers.

Other bits to get excited about: there's a couple of fresh sharing bottles from sour masters Pastore, fresh Cloudwater and the return of Neon Raptor's beloved NEIPA Naughty Luggage!

Plenty more on the full list below.
The Hop Vault.

P.S. Quiz Night booking just went live.
Arbor x Liquid Light - Sunset Vista - DIPA - 8.4%
Arbor - Yakima Valley - IPA - 7%
Burning Sky x Boneface - On Returning - Wild Ale - 5.5%
Cloudwater - Fuzzy - Pale Ale - 4.2%
Cloudwater - Super Happy - Pale Ale - 5.3%
Cloudwater - The Lighter Grey One - IPA - 6.5%
Dig Brew - Judge Doom Slays Eddie - Imperial Stout - 13%
Floc - Whisper - Pale Ale - 5.2%
Low Key Barrel Project x Black Iris - Unravel - Heaven Hill Barrel Aged - Imperial Stout - 10%
Low Key Barrel Project x Black Iris - Unravel - Rioja Barrel Aged - Imperial Stout - 10%
Low Key Barrel Project x Black Iris - Unravel - Rum Barrel Aged - Imperial Stout - 10%
Neon Raptor x Cannabrew - Chocolate Brownie CBD Clusters - Pastry Stout - 5.2%
Neon Raptor - Naughty Luggage - NEIPA - 6.8%
Northern Monk x Garage Project - Smug: The Reincarnation - DIPA - 8%
Pastore - Il Vigneto (2021) - Wild Ale - 7%
Pastore - Raspberry Bacchus - Saison - 7%
Snails Bank - Raspberry Ripple - Cider - 4%
Thistly Cross - Scottish Fruits - Cider - 4%
Thistly Cross - Traditional Cider - Cider - 4.4%
Thistly Cross - Whisky Cask Cider - Cider - 6.7%
---