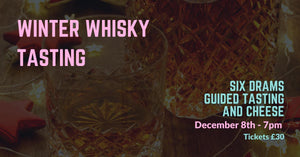 Stock Drop - 29/11/22
Brrr...

It's definitely stout weather.

We've just announced our next whisky tasting event - it's going to be on December 8th, we've upped the ticket price slightly so we can get some very special bottles in. After all, it is Christmas. There'll be cheese (a festively large amount) and biscuits as usual and maybe a mince pie. You can grab a ticket here.

The list is pretty long this week and is once again loaded with big releases... The biggest of the big releases this week is probably Cloudwater's latest in their My Continuous Improvement imperial stout series; this is a Salted Caramel version of the decadent 11% stout, one you might want to save for Christmas day.

There was a couple of co-ordinated national releases last week that we released in-store only. The Pomona Island birthday DIPA & Impy as well as Unbarred's annual imperial stout Stoutzilla hit the webshop this week.

There's a few new festive Three Hills beers, the next in the New Bristol 7 stouts of Christmas series, fresh local drops from Birmingham Brewing Company, Dig Brew, Attic and Copper Beech (including their first impy!), four new Vault City beers and a whole bunch of Festive German beers.
Plenty more on the full list below, live at 7pm!

The Hop Vault.
Arbor - The Devil Made Me Brew It - Stout - 5.5%
Attic x North - Eye Know - IPA - 6.5%
Attic x Heist - Full Monty - DIPA - 8%
Birmingham Brewing Co - Hazy Brummie - Pale Ale - 4.5%
Birmingham Brewing Co - Merry Brummie - Rye Ale - 4.7%
Birmingham Brewing Co - Pale Brummie - Pale Ale - 4%
Birmingham Brewing Co - Sober Brummie - Pale Ale - 0.5%
Birmingham Brewing Co - Stirchley Lager - Lager - 4.4%
Birmingham Brewing Co - Stout Brummie - Stout - 4.8%
Black Country Ales - Black Country Ales Gift Pack - Gift - various%
Brouwerij De Halve Maan - Brugse Zot Gift Set - Gift - various%
Burning Soul - Heaven Helles - Lager - 4.7%
Cloudwater - My Continuous Improvement Salted Caramel - Imperial Stout - 11%
Copper Beech - Full Moon - Imperial Stout - 8%
Copper Beech - Missing Something - Pale Ale - 5.8%
Deya - I've Been Practising My Crocodiles - IPA - 6%
Dig Brew - Milk Plus - Stout - 6.5%
Dig Brew - Optimo - Pale Ale - 5.2%
Huyghe Brewery - Delirium Noel Gift Set - Gift - 10%
Jacob - Winter Weisse - Weissebier - 5.3%
Krugbrau - Festbier - Festbier - 5.5%
Lammsbrau - Festbier Winter - Festbier - 5.6%
LHG | Brewpub - Hazy Pale - Pale Ale - 4.5%
LHG | Brewpub - West Coast Pils - Lager - 5%
Monchshof - Mönchshof Weihnachtsbier - Festbier - 5.6%
Neon Raptor x Castle Rock - Biparellus - Black IPA - 6.6%
Neon Raptor - Retro Racer - Pale Ale - 4.6%
New Bristol x Pentrich - Maple Syrup & Pecan Stout - Stout - 7.5%
Polly's Brew Co - White Noise - Pale Ale - 5%
Pomona Island - Doris Gets Her Oats - Imperial Stout - 11%
Pomona Island - I Did A Pygmy - DIPA - 8.5%
Pomona Island - Moloko Drencrum - Stout - 7%
Ridgeside - Crumble in the Bronx - Sour - 4.8%
Ridgeside - Larboard & Starboard - Porter - 5.9%
Salopian - Kashmir - IPA - 5.5%
Salopian - Waters Of Lethe - Imperial Stout - 9%
Three Hills - Barrel Aged BPAVK: Madeira - Imperial Stout - 11%
Three Hills - Forbidden Christmas: Cranberry & Cinnamon Jule Sour - Sour - 5.5%
Three Hills - Trium Faba: Barrel Aged Christmas Edition - Imperial Stout - 11%
Tucher - Christkindlesmarkt Bier - Festbier - 5%
Unbarred - Stoutzilla - Imperial Stout - 10%
Vault City - Coconut Cherry Cabana - Sour - 4.7%
Vault City x Amity - Fruits of the Forest, Chocolate Honeycomb Vanilla - Sour - 5.8%
Vault City - Rhubarb & Custard Session Sour - Sour - 4.2%
Vault City x Burley Oak - Tropical Sour IPA - Sour IPA - 6.5%
---