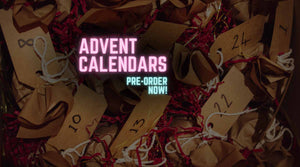 Stock Drop 27/9/22
Ho Ho Ho... 

It's Christmas mate. 
First up... Advent calendars! We know, it's early, but we've had so many people ask about them that we thought it was best to just open up orders.



We're doing things a little different this year, we're not doing an entry level "Basic" calendar this year, it wasn't a very popular option and we kinda feel like it doesn't really deliver the kind of experience we're aiming to offer. This year we'll be offering our premium and luxury calendars as usual but we'll be doing a new "Bougie As Fuck" calendar; it'll be fancy and full of BIG beers. As usual we'll do pales only, no sours & vegan versions of luxury and above calendars, if you have specific requests give us a shout and we can probably sort you out.

Right, this week's collaboration watch: Amundsen have hooked up with Neon Raptor (possibly just so they could use this beer name) to brew up a DIPA called Apocalyptic Raptor Juice, 8%. Sureshot have invited Deya up to brew a NEIPA called Bela Lugosi Is Chasing Me, we've had it on draught and it's been very popular. If you're quick you can try before you buy but it's probably not going to last the week. Deya have another collab out this week, this time with sportswear manufacturer New Balance... we're not sure what input they had in the recipe, maybe one of the designers is into homebrew or something? who knows?!



There's a couple of big rebrews this week - Neon Raptor's much loved Sour IPA Fort Lauderdale makes a comeback and Overtone's excellent DIPA PLUR is back on the shelves.



Other bits to get excited about: there's one of Three Hills Forbidden Pastry sours, a couple of silly bits from Play Brew Co, fresh Track, a fistful of Verdant and a Belgian restock!



Plenty more on the full list below.



The Hop Vault.

P.S. Local artist Peon is displaying some of his work a The Hop Vault this weekend. Pop down and take a look if you get a chance.
Amundsen x Neon Raptor - Apocalyptic Raptor Juice - DIPA - 8%
Attic - Birmingham Pilsner - Lager - 4.8%
Attic - English IPA - IPA - 6%
Attic - Signals - IPA - 5.6%
Brasserie d'Achouffe - Chouffe Cherry - Fruit Beer - 8%
Brasserie d'Achouffe - La Chouffe - Belgian Strong Golden Ale - 8%
Brew York - Lupi Lion - Pale Ale - 5%
Brew York - Rhubarbra Streisand - Pale Ale - 5.5%
Deya x New Balance - New Balance - IPA - 6%
De Halve Maan - Brugse Zot - Belgian Blonde - 6%
Huyghe Brewery - Delirium Red - Fruit Beer - 8%
Huyghe Brewery - Fruli Strawberry - Fruit Beer - 4.1%
Neon Raptor - Crushing Blows - Pale Ale - 3.8%
Neon Raptor - Fort Lauderdale (Blood Orange) - Sour IPA - 5.2%
Neon Raptor - Shoot The Duck - IPA - 6.5%
Overtone - Plur - DIPA - 8%
Play Brew Co - Cherry Ice cream, monkeys blood, vanilla coco imperial
sour - Sour - 12%
Play Brew Co - Raspberry And Milk Sticky Lolly Pale Ale - Pale Ale - 5.5%
Printworks - Bumblebees - Golden Ale - %
Printworks - Geneva - IPA - %
Sureshot x Deya - Bela Lugosi Is Chasing Me - IPA - 6.7%
Sureshot - Imaginary Assailent - IPA - 7.4%
Three Hills - Forbidden Pastry: Summer Fruits Crumble - Sour - 8%
Track - Lost In Motion - DIPA - 8%
Track - New Vibration - IPA - 6.5%
Track - Sonoma - Pale Ale - 3.8%
Unity Brewing Co - Spine Tingling Adventures - Sour - 4.8%
Unity Brewing Co - You Are Here - IPA - 6.4%
Verdant - Even Sharks Need Water - IPA - 6.5%
Verdant - Headband - Pale Ale - 5.5%
Verdant - Lightbulb - Pale Ale - 4.5%
Verdant - People Money Space Time - Pale Ale - 3.8%
---