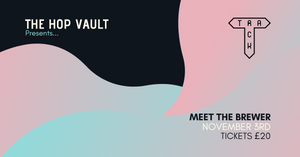 Stock Drop - 25/10/22
Here's what we have for you this week...
New Brew York: State Of Mind barrel aged beers! We have two versions of The Ghost Dimension, a beer brewed with Fierce to celebrate their 5th birthday last year, a 13% Mexican Mole stout containing four types of chillies. Some of it spent twelve months in Speyside whisky barrels and the rest spent 15 months in Tequila barrels. As usual these beers are very special and fairly limited so be fast if you want to try them.

This week's collaboration watch is a quick one: The big one this week is the much-hyped collaboration between Manchester newbies Sureshot and Cornish veterans Verdant, they have produced a mash-up of a couple of their most popular beers - a DIPA called Even Tim The Human Shark Needs Water (8%). There's also a series of collabs from NoLo specialists Lowtide, they've teamed up with Newtown Park, Time & Tide, Exhale and Baron to produce four new alcohol free beers.

Other bits to get excited about: the return of We'll Take It Off The Zombies from Deya, new beers from Black Iris, Beak, Duration and Unbarred.

Plenty more on the full list below, live at 7PM.

The Hop Vault.

P.S. If you fancy our Meet The Brewer with Track there's a couple of tickets left here.


Beak - Plummy - Porter - 7.2%
Beak - Purrr - IPA - 7%
Black Iris - Drink Beer Hail Satan - Black IPA - 6.66%
Black Iris - Little Nipper - NEIPA - 3.8%
Black Iris - Walk Among Us - NEIPA - 6.5%
Brass Castle - Galaxy Crush - IPA - 6.5%
Brew York - BA The Ghost Dimension: Speyside - Stout - 13%
Brew York - BA The Ghost Dimension: Tequilla - Stout - 13%
Deya - We'll Take It Off The Zombies - IPA - 6.5%
Duration - Ebb & Flow - Stout - 6.5%
Kinver Brewery - Edge - Bitter - 4.2%
Kinver Brewery - Half Centurion - Bitter - 5%
Kinver Brewery - Khyber - IPA - 5.8%
Kinver Brewery - Noble - Golden Ale - 4.5%
Kinver Brewery - Witchfinder General - Porter - 5.5%
Lowtide Brewing Co x Exhale - Ohana - Pale Ale - 0.5%
Lowtide Brewing Co x Baron - Simmer Down - Red IPA - 0.5%
New Bristol - Mello Yello - Pale Ale - 5.2%
New Bristol - The Boogie Below - IPA - 5%
New Invention - Blackberry & Plum Ice Cream Pale - Pale Ale - 5.6%
New Invention - On Your Marks - IPA - 5.5%
Newtown Park x Lowtide - Sky At Night - Stout - 0.5%
Salopian - Tenderfoot - IPA - 4.5%
Sureshot x Verdant - Even Tim The Human Shark Needs Water - DIPA - 8%
Sureshot - Grandmother Technique - Sour - 6.7%
Time & Tide x Lowtide - Changing Tides - Pale Ale - 0.5%
Unbarred - Apple Pie Pastry Sour - Sour - 7.3%
Unbarred - Skelter - IPA - 5.5%
---