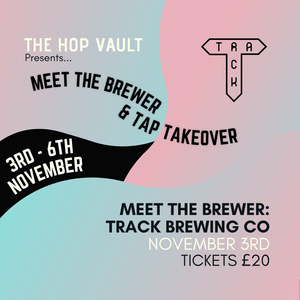 Stock Drop - (18/10/22)
First up... Our next meet the brewer and tap takeover is with Track, without doubt one of the best breweries in the country. They're probably best known for their pale beers, particularly their Gold Top DIPA series but anyone familiar with their dark beers and sours will know their isn't a style where they don't excel. We'll be pouring a selection of their beers from the 3rd-6th November and there'll be a guided tasting and Q&A with one of the Track team on the Thursday (3rd) you can secure your ticket here.

Right, Nothing Bound! Yep the next run of cans from your favourite local brewery has landed, a 6% IPA called Outnumbered hopped with Cryo Pop and Simcoe. Get em while they're fresh!

Last week, we promised you seasonal beers and seasonal beers you shall have. Brew York have sent us their Evil Dead themed beer Juice Campbell vs The Army of Dankness a 7.1% NEIPA a must-have for for your halloween party. We also have the annual pumpkin based team-up between S43 x Brew York this time - Pumpkin Pumpkin Lure Of The Dark Side a 8.7% stout.

We're big fans of Overtone and they've just turned four! To celebrate they've released four special beers a pale ale (4.7%), a berry and vanilla sour (8%), a DIPA (8.5%) and a Toblerone (TOBLERONE!) imperial stout (10%).

This week's collaboration watch: As well as the previously mentioned S43 x Brew York hook-up, Attic have teamed up with German brewery Protokoll to brew a rare adjunct free stout. Dig Brew have a couple of collaborations out this week - a low abv mild brewed with NoLo specialists Mash Gang and a Sour with London based Mondo. Lastly New Bristol have delivered a Strawberry & Peach Lassi gose with Newtown Park.

Other bits to get excited about: fresh DIPAs from Deya and Cloudwater, new beers from local lot New Invention, Polly's, Kernel and Unbarred.

Plenty more on the full list below.

Attic x Protokoll - Empty Cans - Stout - 5%
Big Drop - Galactic Milk Stout - Stout - 0.5%
Big Drop - Paradiso Citra IPA - IPA - 0.5%
Big Drop - Uptime Craft Lager - Lager - 0.5%
Brew York - Fruit Saladz - Sour - 3.9%
Brew York - Juice Campbell vs The Army of Dankness - IPA - 7.1%
Brew York - Pining For The Fjords - Pale Ale - 4.5%
Cloudwater - Proper DIPA: Mosaic Edition - DIPA - 8%
Deya - Sound Explorer - DIPA - 7.5%
Dig Brew - Cancun: Prickly Pear - Lager - 6%
Dig Brew x Mash Gang - Lucy in the Sky with Demons - Mild - 2.5%
Dig Brew x Mondo - Tiny Feeted Village People Of Bacca Island - Sour - 5%
Lost & Grounded - Helles - Lager - 4.4%
New Bristol x Newtown Park - Strawberry & Peach Lassi Gose - Sour - 5%
New Bristol - The Joy Of Sesh - Pale Ale - 4.2%
New Invention - Blueberry & Coconut Ice Cream Sour - Sour - 5.7%
New Invention - Gold Rush - Pale Ale - 4.5%
Nothing Bound - Outnumbered - IPA - 6%
Overtone - Chuck Berries - Sour - 8%
Overtone - Duty Free - Imperial Stout - 10%
Overtone - Four Candles - Pale Ale - 4.5%
Overtone - Pure Magic - DIPA - 8.5%
Polly's Brew Co - A Place Called... - Pale Ale - 5.4%
S43 - Little Juice - Pale Ale - 5.5%
S43 x Brew York - Pumpkin Pumpkin Lure Of The Dark Side - Stout - 8.7%
The Kernel - Export India Porter - Porter - 6.5%
The Kernel - Pale Ale - Simcoe - Pale Ale - 5.3%
Track - Sonoma - Lager - 3.8%
Unbarred - Bueno Shake - Stout - 6.4%
Unbarred - No Coast IPA - IPA - 5.8%
Vacay - Tom Collins - Cocktail - 6.1%
---