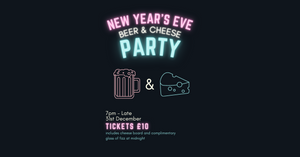 Stock Drop - 13/12/22
We're throwing a New Year's Eve party! Tickets are a tenner and include a cheese board and a glass of fizz to welcome in the new year. You can grab them here. Should be good!
51 new SKUs on the list today... Where to start? Let's go with the thing we're most excited about: Verdant's new Imperial Stout. They're known for their IPAs but to our minds (and mouths) they might just be the best dark beer brewer in the country. They only brew a few stouts every year and normally only ever one imperial stout so this is a very rare treat for you all.

Talking about breweries who're not known for their dark beers - Deya have released an imperial stout too! If last year's imperial stout release, Closing Time is anything to go by this is going to be great.

This week sees the return of last year's Beer Of The Year - Nothing Bound Connecticut, cans should arrive today the keg should hopefully go on at the weekend. Make sure you grab one so you can decide whether it's worthy of retaining the title! That competition should start next week on Instagram/Facebook though we may run the polls simultaneously on Twitter if we decide we can be bothered to add the numbers together.

You may have seen the social media ablaze with excitement (and some confusion) about Siren's new CCC beers. Everyone was expecting their annual release of Caribbean Chocolate Cake but we have something different - three collabs, all stouts. They say if you like Caribbean Chocolate Cake you'll love these and they have also implied that Caribbean Chocolate Cake is coming soon.

We've expanded our natural wine selection with six new bottles from London based Renegade Urban Winery. There's a bit of everything, white red, orange, fizzy and even a dry hopped sparkling wine. Give them a go.

Amongst the rest we have Azvex birthday beers, the last Brew York release of 2022, a Green Duck x Fownes collaboration and a couple more of New Bristol's 7 stouts of Christmas. Oh and four new Vault City!
Plenty more on the full list below, live at 7pm!

The Hop Vault.


Azvex - Development Hell 2 - DIPA - 8.3%
Azvex - Monster Truck Taxi - IPA - 6.8%
Azvex - Objective Reality - Pale Ale - 4.5%
Azvex - Strategic Reserve - Imperial Stout - 13%
Beer Hut - Cosmic Cone - Sour - 5%
Beer Hut - Here Comes The Hop Stepper - IPA - 3.9%
Brew York - Nanook - IPA - 5.7%
Brew York - Viking DNA - Porter - 5%
Burning Sky - Blessed State - Stout - 7.3%
Burning Sky - Pretty Mess - IPA - 7%
Burning Sky - Robust Porter - Porter - 5.8%
Burning Soul - Breakfast Stout - Stout - 7%
Burning Soul - Coconut Porter - Porter - 7%
Burning Soul - Ice Cream Pale - IPA - 5.6%
Burning Soul - Like Clockwork - IPA - 5.5%
Deya - Why Not? - Imperial Stout - 12.5%
Green Duck - Remedy - Pale Ale - 4%
Green Duck - Sons Of Thunder - Stout - 6%
Hasseröder Brauerei - Premium Pils - Lager - 4.9%
Holy Goat - Spectral Lore - Sour - 6.1%
Lost & Grounded - Running With Spectres - Porter - 6.8%
New Bristol - Cinder Toffee Stout - Stout - 4%
New Bristol - Joy Of Sesh - Pale Ale - 4.2%
New Bristol - Toblerono - Stout - 7%
Nothing Bound - Connecticut - IPA - 5.8%
Nothing Bound - Dry Mill - Pale Ale - 4.6%
Nouveau Wine - White Lies 2022 - Wine - 12.5%
Polly's Brew Co - Anemoia - Stout - 6%
Polly's Brew Co - Latin Jacket - IPA - 5.9%
Renegade Urban Winery - Araceli' - 2020 Pinot Grigio Ramato - Skin Contact Pink - Wine - 12%
Renegade Urban Winery - Bethnal Bubbles 3.1.' Dry Hopped Sparkling Wine - Wine - 11%
Renegade Urban Winery - Crystal' - 2021 Croatina Nat Fizz (Pet Nat) Pink - Wine - 12.5%
Renegade Urban Winery - Gary' 2020 - Pinot Noir - Wine - 13%
Renegade Urban Winery - Janet' 2021 Skin Contact Malvasia - Wine - 13%
Renegade Urban Winery - Marc' 2021 Riesling - Wine - 11.5%
Samuel Smith's - Chocolate Stout - Stout - 5%
Samuel Smith's - Taddy Porter - Porter - 5%
Siren - Candour - Stout - 7.8%
Siren - Charm - Imperial Porter - 9%
Siren - Curiosity - Imperial Stout - 10%
The Kernel - Export India Porter - Porter - 6.1%
Unbarred - Bueno Shake - Stout - 6.4%
Unity - Hug It Out - Stout - 5%
Vault City - Barrel Aged Barleywine - Barley Wine - 8%
Vault City - Buck's Fizz Session Sour 2022 - Sour - 4.8%
Vault City - Diamonds in the Mud - Stout - 10.1%
Vault City - The Schoff - Sour - 0.5%
Verdant - Lightbulb - Pale Ale - 4.5%
Verdant - The Lighting of the Mock - Imperial Stout - 11.5%
Wander Beyond - Celestial - Imperial Stout - 10%
Whitebox - Classic Cosmo - Cocktail - 16.8%
---