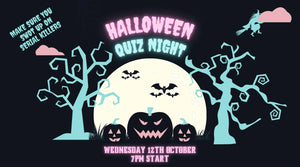 Stock Drop - 11/10/22
First up... Our next quiz is on Wednesday and the prize pot is looking like it will be at least £150!! Whilst November's quiz will actually be closer to Halloween, for some reason we've decided to make this quiz our Halloween quiz, so there'll be some themed rounds and we recommend you research serial killers... There's still a few spaces left, we do recommend you book but we always keep a few spots open for walk-ins if you decide at the last minute. Kick off is 7pm, you can reserve your spot here.


Right, this week's collaboration watch: Amundsen feature twice in this week's CW, first up is Release The Cranachan a 6% pastry sour brewed with the help of Vault City. Cranachan is a Scottish dessert made with Strawberries, cream, oats and, of course, Whisky, that's what Wikipedia says anyway... Their second appearance is alongside Pressure Drop, they've teamed up to brew an imperial chocolate fudge and toffee stout (10%) which sounds bloody amazing. Northern boys Rivington have called the other end of the country to invite Abyss up to brew a very sensible DDH Oat Pale (5.4%). And rounding out this week's CW is a tasty sounding grapefruit IPA from Wild Beer x Salt.



As we hurtle towards winter we'll start to see a number of seasonal releases and Halloween triggers the first wave. The first to grace our shelves this year is Vault City's Blueberry Pumpkin Spice Latte (8.5%), it's joined by two more beers from Vault City - Blackcurrant Choc Chip Waffle (4.7%) and Strawberry Woo Woo (9%) which was incredibly popular last year.
We were supposed to have a couple more autumnal beers this week including a corker from S43 and Brew York but they've failed to turn up so you'll have to wait until next week... Sorry.



Other bits to get excited about: there's a couple more from Amundsen, fresh Verdant, a couple of cans of insanity from Wander Beyond a few new German beers and of course all of those lovely new Green Duck cans that launched on Thursday!



Plenty more on the full list below.

The Hop Vault.



P.S. Tickets for our next whisky tasting are now live!
Amundsen x Vault City - Release The Cranachan - Sour - 6%
Amundsen - Roots Of Darkness - Stout - 11.5%
Amundsen - Uncle Pops Soda Series: Cherry Colla Ice Cream Float Sour - Sour - 6%
Arbor - Cherry Fizz Balls - Sour - 5%
Arbor - Shangri-La - IPA - 4.2%
Arbor - Space Hardware - IPA - 6.6%
Better World - Eagle - Pale Ale - 5%
Better World - Hippo - IPA - 6%
Better World - Polar - Pale Ale - 4%
Brauhaus Tegernsee - Tegernseer Spezial - Lager - 5.6%
Green Duck - Akhana - Lager - 4%
Green Duck - Blonde - Blonde Ale - 4.2%
Green Duck - Catalyst - IPA - 5.2%
Green Duck - Foam Party - Pale Ale - 4.5%
Green Duck - Pacific Pils - Lager - 4.4%
Green Duck - Remedy - Pale Ale - 4%
Green Duck - Weekend In Monaco - Pale Ale - 3.2%
Mahrs Bräu - Mahrs Helles - Lager - 4.9%
Mahrs Bräu - Mahrs Pils - Lager - 4.9%
Pressure Drop x Amundsen - Fodj - Stout - 10%
Rivington x Abyss - From The Trough - Pale Ale - 5.4%
Vault City - Blackcurrant Choc Chip Waffle - Sour - 4.7%
Vault City - Blueberry Pumpkin Spice Latte - Sour - 8.5%
Vault City - Strawberry Woo Woo - Sour - 9%
Verdant - De-Bleaker - IPA - 6.5%
Wander Beyond - Loveliness - Imperial Porter - 13.8%
Wander Beyond - Octopod - TIPA - 12%
Wild Beer Co x Salt - Zest A Peel - IPA - 4.7%
---