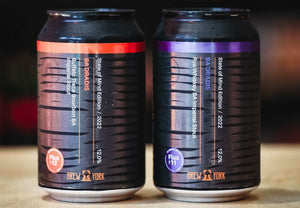 New This Week - 16/8/22
First up... New Brew York State Of Mind cans! Two different barrel aged expressions of their beer DRADIS; A big, luscious and complex Russian Imperial Stout made from a balance of ten different malts. These are very limited so don't be slow!

If two super-hype beers wasn't enough we offer you a couple more from Vault CIty; the long awaited arrival of Iron Brew Extra is here! The original Iron Brew was very popular so we're expecting this 8% version to fly out. It's joined by a rare Vault City stout brewed in collaboration with imperial stout Jedis Emperor's. This big straight-up impy has been aged for seven months in fresh Islay casks; a must-have for the whisky lovers amongst you.

There's three new beer in from Yorkshire based nano brewery Tartarus, the previous offerings we've had from them went down well and now they've switched from bottles to cans there's more room to show off the incredible artwork. There's a pale ale, IPA and a Strawberry, Lime and Coconut sour. Yum.

There's a couple of fresh ones in from Manchester newbies Sureshot including the much-hyped Dunblobbin, we can assure you it's not just because it has Mr Blobby on the can...

Amongst the rest you'll find fresh Arbor, Dig Brew, Deya and Northern Monk.

Plenty more on the full list below. All live at 7PM!

The Hop Vault.


Arbor - Mosaic - Pale Ale - 4%
Brew York - BA Dradis: Buffalo Trace Bourbon - Stout - 12%
Brew York - BA Dradis: Rye Whisky - Stout - 12%
Brew York - Imperial Eagle - DIPA - 9%
Deya - Define The Only Reason - Pale Ale - 5.8%
Deya - Jason, United On The Telly - IPA - 6.5%
Dig Brew - Operation Burn The Sun - Sour - 5%
Dig Brew - Optimo - Pale Ale - 5.2%
Dig Brew - Pueblo - Pale Ale - 4%
Fixed Wheel - Poggio - IPA - 5%
Northern Monk - Flake And Sauce 2022 - Pale Ale - 6.2%
Phantom - Paying In Naivety - Sour - 7.5%
Phantom - Time Travelling - IPA - 5.7%
Sureshot - Dunblobbin - IPA - 6.5%
Sureshot - Milson - Pale Ale - 5.2%
Tartarus - Jackalope - IPA - 7%
Tartarus - Manaia - Pale Ale - 4.7%
Tartarus - Rearea - Sour - 6.3%
The Kernel - Table Beer - Pale Ale - 3%
Vault City - From a Gaelic Sea, Far, Far Away... - Sour - 10%
Vault City - Iron Brew Extra - Sour - 8%
Vault City - Valencia Orange Session Sour - Sour - 4.7%
---