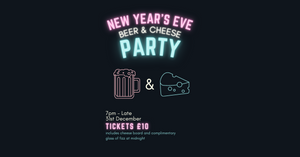 Last stock drop of 2022!
We're throwing a New Year's Eve party! Tickets are a tenner and include a cheese board and a glass of fizz to welcome in the new year. You can grab them here. Should be good!
Right, last stock drop of the year! Well, we might have a little suprise or six for you before 2023 hits... Keep your eyes peeled. 

Amundsen turn 9 and to celebrate they've collaborated with five world class breweries to brew up five insane birthday beers.

Cloudwater have re-brewed the chocolate orange version of their famous My Continuous Improvement series just in time for Christmas.

There's a big sharing bottle of imperial plum porter from Fallen Acorn.
The seventh and final instalment of the Northen Monk x Smug Patrons Project series, a surprisingly sensible 7.4% IPA.

Polly's have brewed their thousandth brew. They decided to make it a special one so they've gone and done a 10% West Coast IPA. Should be punchy.

Amongst the rest there's some Deya, Attic, Floc, Kernel and a shed-load of Verdant.

Plenty more on the full list below, all live at 7pm!.
Amundsen - 9th Birthday Cake - Brown Cheese And Waffles With Raspberry Jam - Imperial Stout - 12%
Amundsen - 9th Birthday Cake - Espresso Lava Cake - Imperial Stout - 13%
Amundsen - 9th Birthday Cake - German Chocolate Cake With Maple Frosting - Imperial Stout - 13%
Amundsen - 9th Birthday Cake - Marzipan Cinnamon Role With Orange Glaze - Imperial Stout - 13%
Amundsen - 9th Birthday Cake - Wookies And Cream Cheesecake - Imperial Stout - 14%
Attic - Do Pretzels Float? - Imperial Stout - 11%
Attic - Tightrope - Pale Ale - 4.5%
Attic - Valopus - Pale Ale - 5.4%
Big Drop - Paradiso - Citra IPA - IPA - 0.5%
Bristol Beer Factory - Clear Head - IPA - 0.5%
Cloudwater - My Continuous Improvement Chocolate Orange - Imperial Stout - 11%
Cloudwater - Optimised - Pale Ale - 5%
Deya - Super Glue - Pale Ale - 4%
Deya - You're A Long Way From Home - Porter - 8.4%
Fallen Acorn - If We Were A Sinking Ship - Porter - 10.5%
Floc - From No Where - DIPA - 8%
Floc - On & On - Pale Ale - 4.5%
Kernel - Bitter, Simonds 1880 - Bitter - 6.5%
Kernel - Pale Ale - Amarillo, Simcoe - Pale Ale - 5.5%
Kinver - Over The Edge - Ale - 7.5%
Neon Raptor - Press Circle To Meow - IPA - 6%
Neon Raptor - Twerking Turkeys - Sour - 6.5%
Northern Monk - Patrons Project 31.07 // Smug // The Church Of Smug Life - IPA - 7.4%
Northern Monk - Wasted Christmas 2022 - Porter - 5%
Polly's Brew Co - Gyle #1000 - TIPA - 10%
Snailsbank - Rhubarb - Cider - 4%
Thistly Cross - Elderflower - Cider - 4%
Thistly Cross - Scottish Fruits - Cider - 4%
Thistly Cross - Strawberry - Cider - 4%
Thistly Cross - Traditional - Cider - 4.4%
Thistly Cross - Whisky Cask - Cider - 6.7%
Verdant - Allen - DIPA - 8%
Verdant - Big Stupid Westy Colour Spreading - IPA - 6.5%
Verdant - Lightbulb - Pale Ale - 4.5%
Verdant - Munich Helles - Lager - 4.8%
Verdant - People, Money, Space, Time - Pale Ale - 3.8%
---