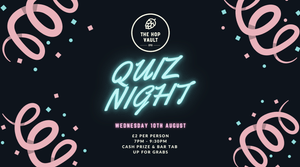 DAS IST TECHNO SEX!
It's quiz night this week! As usual there'll be a cash prize and a bar tab up for grabs so come join us for fun and games this Wednesday. You can book a spot for your team here.

Right.

First up... DAS IST TECHNO SEX! The beer with an almost mythical status returns this week. For those of you who're not familiar with this beer - it's a passionfruit and key lime gose from Scottish brewery Up Front. And it comes in the best can ever... It's usually very popular so jump on it quickly if you want to try it.

The Siren Time Hops series lands this week - Time Hops looks at some of the world's favourite hops and the impact they've had on beer as we know it. To bring this story to life, they've created four unique hop-forward beers inspired by some pivotal moments in time where growers and brewers made the magic happen.

There's a few from Cloudwater including three of their new core beers and the new collaboration with Azvex - a 6% IPA brewed with a new hybrid yeast. It sounds very interesting and we can't wait to try it. Speaking of Azvex we have their latest impy - Madagascan Infusion (12%) - made with Madagascan cacao.

There's a couple of returning thiccc, hazy favourites in the form of Verdant's including Even Sharks Need Water (6.5%) and Polly's Oaty (6%).
Amongst the rest you'll find fresh Beak, New Bristol, Rivington and Brew York.

Plenty more on the full list below.

The Hop Vault.


Abbeydale - Absolution - Golden Ale - 5.3%
Azvex - Madagascan Infusion - Imperial Stout - 12%
Beak Brewery - Blub - IPA - 6.5%
Beak Brewery - Bobber - IPA - 6.5%
Brew York - Yorkshire Battle Cry - Pale Ale - 4.5%
Brew York - Yorkshire Parky - Stout - 5.4%
Cloudwater - Fusion - Pale Ale - 6%
Cloudwater - Fuzzy - Pale Ale - 4.2%
Cloudwater - Happy - Pale Ale - 3.5%
Cloudwater - So Cal - Pale Ale - 4.8%
New Bristol Brewery - Cherry Cheesecake Donut Sour - Sour - 5.5%
New Bristol Brewery - Espresso Martini Cinder Toffee Stout - Stout - 7%
Polly's Brew Co - Oaty - IPA - 6%
Rivington - Area Codes - Pale Ale - 4.5%
Rivington - Tales From The Crypt - DIPA - 8%
Rivington - Wide Awake For The Last 3 Days - Pale Ale - 5.5%
Siren - — Time Hops: Citra & Mosaic - IPA - 7%
Siren - Time Hops: Cascade - Pale Ale - 5.6%
Siren - Time Hops: Centennial - IPA - 7.5%
Siren - Time Hops: Simcoe - DIPA - 8%
Up Front Brewing - Dast Ist Techno Sex - Gose - 5.4%
Up Front Brewing - Nectar IPA V2 - IPA - 7.4%
Up Front Brewing - Scottish Blackcurrants - Sour - 7.4%
Verdant - Even Sharks Need Water - IPA - 6.5%
Verdant - Marylou - Pale Ale - 5.2%
---