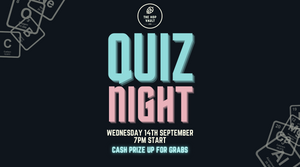 Another Nothing Bound collab! Live At 7PM. (Stock Drop - 6/9/22)
The second Wednesday of the month is fast approaching so book your spot for this month's quiz night! The cash prize is expected to be over £100 and there'll be some extra little spot prizes this time out too. Reserve a table for your team here.

Right...

First up, news that may have got us almost as excited as last week's Deya x Nothing Bound collaboration - a Glasshouse x Nothing Bound collaboration! Those boys from Stirchley know how to brew up a smashable beer so we're expecting big things from this 4.8% pale ale.
There's a second Glasshouse collab this week - a 6.5% IPA brewed with Allkin. For those of you who don't know, Allkin brewery has risen from the ashes of Good Things, a brewery that sadly burned to the ground after being hit by lightening in 2021. They've been travelling the country brewing up collabs with the UKs best breweries (All called Road To Unruin) trying to raise awareness for their crowdfunding campaign, so they can rebuild their brewery. You can read more about Allkin and their future plans here.

Collaborations show no sign of going out of fashion and we're blessed with another big one this week as Pressure Drop hook up with highly rated Manchester newbies Sureshot to deliver a NEIPA that lands right on that 7.2% ABV sweet spot.

Brew York bring back one of their greats - Kirsch Russel and It's joined by it's sequel Kirsch Russel - Escape From LA which throws some maple into the Cherry Pie mix to make for an even tastier pastry sour.

Black Iris are at it again with the music based puns. They've delivered us Limp Biscoff - a 10% Biscoff Imperial Stout - and Thrashin Fruit - a 6.5% Passionfruit and Vanilla Sour IPA brewed with Pomona Island.

Amongst the rest you'll find fresh Cloudwater, a rare Boundary drop, New Bristol, some silly bits from Play Brew and everybody's favourite cocktail (Margarita), in a can from Whitebox.

Plenty more on the full list below. All live at 7pm.

The Hop Vault.

P.S. It's bottle share club this Thursday, it's free to attend just pop along at 7pm and bring some beer. You can bring something from home or buy something when you get here (10% off for bottle share attendees).


Black Iris - Limp Biscoff - Imperial Stout - 10%
Black Iris x Pomona Island - Thrashin Fruit - Sour - 6.5%
Boundary - IPA Was My Thinking But I'm Open To Suggestions - DIPA - 8.7%
Boundary - No Blasters - Pale Ale - 4.3%
Boundary - We'll Find Out Together - IPA - 6%
Brew York - Kirsch Russell - Escape From LA - Sour - 6.5%
Brew York - Kirsch Russell - Sour - 6.5%
Brew York - Son Of A Peacher Man - Pale Ale - 4.2%
Cloudwater - Proper DIPA - DIPA - 8%
Cloudwater - The Little Pump House At Kinder Reservoir - Pale Ale - 5%
Deya - Mind Expansion Pack - Pale Ale - 3.8%
Glasshouse x Allkin - Road To Unruin - IPA - 6.5%
Glasshouse x Nothing Bound - Stacks - Pale Ale - 4.8%
New Bristol - Going NEIPA Underground - NEIPA - 4.7%
New Bristol - The Joy of Sesh - Pale Ale - 4.2%
Play Brew Co - Double Cotton Candy Sour - Sour - 8%
Play Brew Co - Guava & Lychee, Banana Melon Lassi Sour - Sour - 6.2%
Pressure Drop x Sureshot - Birdwatch Weekly - NEIPA - 7.2%
The Kernel - Pale Ale - Citra Amarillo Mosaic - Pale Ale - 5.2%
Whitebox - Squeezy's Margarita - Cocktail - 19%
---