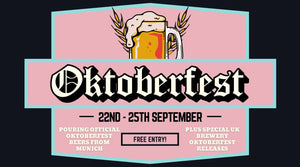 A Collab-a-trois... (Stock Drop 13/9/22)
Oktoberfest is coming to The Hop Vault! 
But first a collab-a-trois... 
First up, news that may have got us almost as excited as last week's Glasshouse x Nothing Bound collaboration and very similarly excited as the previous week's Deya x Nothing Bound collaboration - a Glasshouse x Deya collaboration! A 5% Pale ale using a brand new hop, Necteron. The collab love triangle is complete! We've restocked the Glasshouse x Nothing Bound beer and we still have a few of the Deya x Nothing Bound cans left so if you're quick you can try them all side by side. If you're not quick you can saunter on down to the bar this weekend where we'll have all three on tap. Of course, we can't guarantee they'll last all weekend!

In this week's collaboration watch: Aside from the aforementioned Glasshouse x Deya x Nothing Bound three-way, we see Neon Raptor inviting Adroit Theory over, all the way from Virginia to brew up an insane 16% ABV coconut & chocolate imperial stout. Neon Raptor have a second collaboration out this week a strawberry & raspberry cheesecake sour with another international brewery - Maltgarden, the Polish brewers famed for their dessert style beers. Also, Turning Point have crossed the Pennines to help Pomona Island come up with an obscure pop culture reference that they've stuck on a can containing a 6.5% IPA.

Vault City have dropped off a 10% sour they've called Red Jammie Peanut Butter Marshmallow Honeycomb. A carefully selected list of ingredients resulting from weeks of experimentation? Or just what they had left in the cupboard? We'll never know but we reckon you'll want to try it.

On the subject of sours - Beak have taken a break from banging out smashing pales to brew up a peach and raspberry sour that we're keen to try. It was clearly a very short break though as it's accompanied by a smashing new 5.6% pale ale.

Other bits to get excited about: the return of Cloudwater The Light Grey One, a new Polly's pale, some fun sounding tins from S43 and a fresh GF drop from Brass Castle.

Plenty more on the full list below, we're off to see if anyone has made a Spotify playlist of all the songs referenced in Pomona Island beer names.

The Hop Vault.

Beak Brewery - Oodle - Sour - 6%
Beak Brewery - Pals - Pale Ale - 5.6%
Brass Castle - Bad Kitty - Porter - 5.5%
Brass Castle - Mosaic Crush - Pale Ale - 6.5%
Brass Castle - Sunshine - IPA - 5.7%
Cloudwater - Happy - Pale Ale - 3.5%
Cloudwater - SoCal - Pale Ale - 4.8%
Cloudwater - The Light Grey One - DIPA - 8%
Glasshouse - Bringing Seshy Back - Pale Ale - 3.5%
Glasshouse x Deya - Croc Encounters - Pale Ale - 5%
Glasshouse x Nothing Bound - Stacks - Pale Ale - 4.8%
Hacker-Pshorr - Weissebier - Weiss Beer - 5.5%
Neon Raptor x Adriot Theory - Bear With Me - Imperial Stout - 16%
Neon Raptor x Maltgarden - Dyplomata - Sour - 7%
Polly's Brew Co - The VIP Remix - Pale Ale - 5.6%
Pomona Island x Turning Point - Considering a move to Memphis - IPA - 6.5%
Pomona Island - Why Hello Jill! - Pale Ale - 5.3%
S43 - Freshly Squeezed - IPA - 6.3%
S43 - Pineapple & Mango Daiquiri Sour - Sour - 6.7%
Square Root - Non-Alcoholic Mojito - Soda - 0%
The Kernel - Table Beer - Pale Ale - 3%
Tiny Rebel - Clwb Tropica - IPA - 5.5%
Vault City - Red Jammie Peanut Butter Marshmallow Honeycomb - Sour - 10%
---